Introduction of a project management system in KMG (PMS)
Improving the quality of project implementation in the KMG group using the Stage Gate Process by ensuring the transparency of project activities, exclusion of unprofitable projects, redistributing the powers of the investment bodies, qualitative study of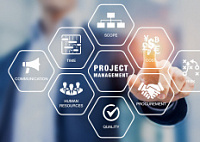 Location
Astana, Атырау, Aktau, Pavlodar, Aktobe, Mangystau region, Ural, Kyzylorda region, Aktobe region, Shymkent
Terms of implementation
2019-2022
Participants
KMG, EMG, OMG, POCR, Atyrau Refinery, KTO, Urikhtau Operating, KazGPZ, Ural Oil and Gas, MMG, KBM, PKOP, KLPE, KPI, KMTF, Main Waterline, KMGI, KTM, KOA, KGM
Current status
В In implementation
maturity level of the KMG group in the field of project management

employees of KMG and its subsidiaries trained in project management

workers with IPMA certification
KMG's project management system consists of 5 components:
- Staged project implementation process defines the goals, objectives, results, and documents of each stage of the project life cycle
- The decision-making system defines the types of decisions and the management bodies responsible for making the decisions within the project management, as well as their interrelationship
- A comprehensive feasibility study determines the procedure for conducting an expert assessment of the project's readiness for the transition to the next stage of the project life cycle
- Organizational abilities determine the structure, main roles, and functions of the project participants
- Regulatory and methodological documentation and project management tools that define the requirements for the structure and composition of documents, and instructions for using project management tools.

- Key methodological documents on the investment activity and project management have been validated, and a regulatory framework created for the functioning of the project management system.
- Project teams have been formed on the key projects, and a motivation system introduced.
- Process of a Comprehensive feasibility study of projects is introduced, focusing not only on the economic feasibility, but also on the quality of technical solutions, the quality of work planning, contract strategy, cost reliability, risk assessment, etc.
- The pilot project of the Project Management Information System has been implemented. It is currently being modernized. PMIS will provide project data consolidation, scheduling, network planning, plan-fact analysis of work performance, and Power BI business intelligence.