Construction of a gas chemical complex in the Atyrau region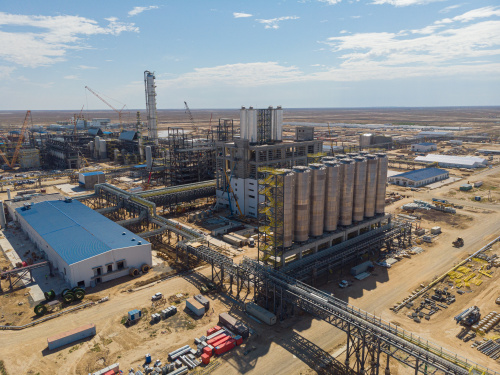 Terms of implementation
2008-2022
Participants
Samruk-Kazyna Ondeu LLP (49.5%), NC KazMunayGas JSC (49.5%), Almeks Plus Firm LLP (1%)
General Contractor
China National Chemical Engineering Co. (CNCEC, China)
Current status
On November 8, 2022, the production facilities of the complex were launched with access to the technological regime and the production of polypropylene. The first part of products was shipped for export to China. Measures are being taken to bring the technological process of the complex to a stable technological regime with the identification of "bottlenecks". A roadmap of measures for carrying out warranty performance tests has been developed
Polypropylene, thousand tons per year

Investments, billion US dollars

New jobs during the construction period

New jobs during operation
Kazakhstan Petrochemical Industries Inc. LLP is the operator of the investment strategic project «Construction of the first integrated petrochemical complex in the Atyrau region» (Phase I - Production of Polypropylene).
The project is aimed at using the available volumes of gas from the Tengiz field as a feedstock for the Complex production of high-value-added petrochemical products for subsequent sale in the domestic and export markets.

The technology used allows the production of up to 64 grades of homopolymers. Each group of grades is intended for specific purposes, such as packaging, medicine, automotive, pipes and their components, electrical engineering, i.e. almost all everyday products contain polypropylene to some extent.

The unique complex:
- The use of advanced technologies for propane dehydrogenation and propylene polymerization from the Licensor of Lummus Technology company with maximum product yield and minimum energy consumption;
- Use of technological equipment of global manufacturers;
- Implementation of digital solutions in the management of technological processes, warehouses, production and repair planning except for human factors.