Growth Projects at the Kashagan field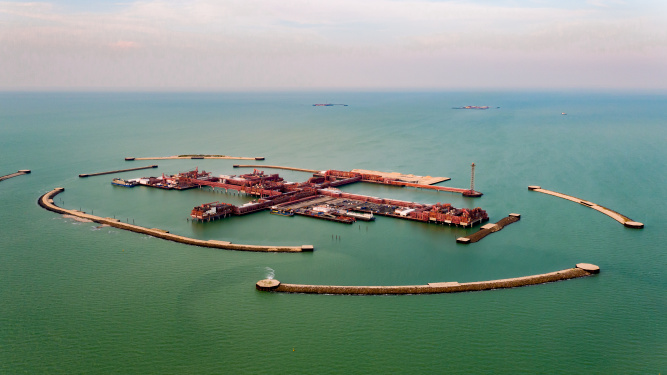 Terms of implementation
preliminary 2027 (Stage 2A), preliminary 2031 (Stage 2B)
Participants
KMG Kashagan B.V. (16.88%), Agip Caspian Sea B.V. (16.81%), ExxonMobil Kazakhstan Inc. (16.81%), Shell Kazakhstan Development B.V. (16.81%), Total E&P Kazakhstan (16.81%), CNPC Kazakhstan B.V. (8.33%), INPEX North Caspian Sea, Ltd. (7.56%)
Current status
In implementation
thousand barrels of oil production per day

investments, billion US dollars

personnel
The giant Kashagan field is the largest discovery in the last four decades. Kashagan is one of the most challenging industrial projects in the world due to high levels of hydrogen sulfide, harsh environmental conditions at sea, and additional engineering, logistics, and security issues. Full-scale development of the Kashagan field is expected to be carried out in stages. Currently, the field is being produced as part of Phase 1 development. Phase 2 is considered within three separate projects, the most studied of which are Phase 2A and Phase 2B, aimed at increasing the level of oil and condensate production over the next 10 years.

Project «Stage 2A»
The project aims to increase oil production up to ~500 kbbl/d (~63 kt/d) at existing facilities through an additional supply of ~2 bcm/year of sour gas to a third-party gas processing plant. The project is at FEED stage.
Project «Stage 2B»
The project is aimed at increasing oil production up to approximately ~710 kbbl/d (~89.5 kt/d) by involving new sections of the Kashagan field in the development and construction of new facilities with an additional supply of sour gas in the amount of ~ 6 bcm/year to a third party. The project is at pre-FEED stage.