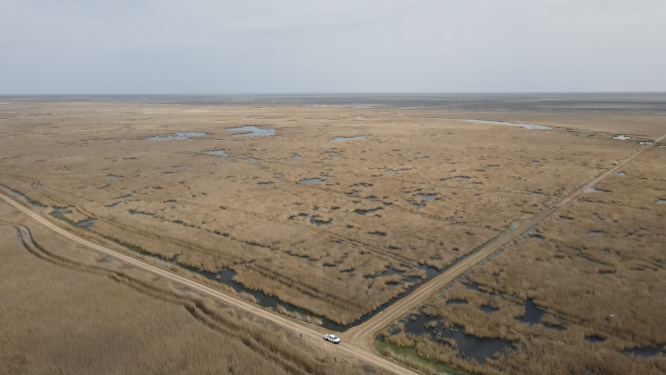 Terms of implementation
2019-2023
Participants
Atyrau Refinery LLP (100%)
General Contractor
NefteStroyService Ltd LLP and Center-Kotlo-Service LLP
Current status
Stage I of the MTFs reconstruction was completed, two sectors of four evaporation fields were dried. At the stage of completion the construction of the canal of normatively cleaned facilities
decrease in freshwater intake from the Zhaiyk River, %

reduction in wastewater discharge, %

investment, billion KZT

new jobs during the construction period
Within the TAZALYQ project, the implementation of the following subprojects is planned:
- Modernization and reconstruction of the refinery's wastewater mechanical treatment facilities (MTFs);
- Reconstruction of the effluents canal and reclamation of evaporation fields.
With the commissioning of the APC and AORC facilities, the volume of wastewater from the Atyrau Refinery increased. Wastewater treatment facilities of the plant consist of sequentially located MTFs and BTFs built in 1973 and 2006. The efficiency of treatment facilities has decreased with an increase in wastewater, physical deterioration of equipment, and the absence of a sludge treatment unit.

The evaporation fields were commissioned in 1945 and were designed to receive wastewater from the plant. An impervious screen had not been provided for the evaporation fields, and a significant amount of pollutants accumulated over 74 years of operation. Air quality monitoring stations regularly record excess pollutants concentrations in the evaporation field area.
The project implementation will eliminate the risks of exceeding the maximum permissible concentration of oil products in the treated effluents and the penalties.