75% of the Saryarka gas pipeline already completed
16.08.2019
Builders of the Saryarka gas pipeline, which is in the area of KMG's responsibility, have reported the completion of 796.6 kilometres of the trunk line, accounting for 75% of the total length of the linear section of the pipeline.
Saryarka gas pipeline will increase the national energy security, ensure uninterrupted gas supply to central and northern regions and improve the environmental situation. It is planned to gradually switch private and small communal boilers, residential houses and heat and power plants to gas in the future.
The planned completion of the construction of the linear section, which is KMG's responsibility, is scheduled for the end of this year. After that, the Akimats will proceed with provision of gas supply to settlements, including the capital city.
Welding works have been fully completed in the Kyzylorda Province and are currently being carried out in the Karagandy and Akmola Provinces. The project uses the up-to-date welding technology, rendering it possible to lay pipe 6 kilometres of the 820 mm diameter a day.
Welding units are currently in operation:
- in the Karaganda Province - at kilometre 794 (14 km to the tie-in point of the branch to the Karaganda automatic gas distribution station) and at kilometre 844 (36 km after the Karaganda tie-in point) of the gas pipeline;
- in the Akmola Province - at kilometre 970 (27 km north of the border of the Karaganda and Akmola Provinces) and at kilometre 1,056 km of the gas pipeline route (5 km from the tie-in point of the branch to the Astana-1 automatic gas distribution station).
More than 2 thousand people and 800 units of equipment are being engaged in the construction of the trunk gas pipeline. Mobile shift camps have everything necessary for round-the-clock performance of works, offering good living conditions for the staff. AstanaGas KMG JSC, whose shareholders are Samruk-Kazyna Sovereign Wealth Fund JSC and "Baiterek" National Managing Holding JSC, is responsible for the operating activities. KazStroyService OGCC JSC is the general contractor for the construction.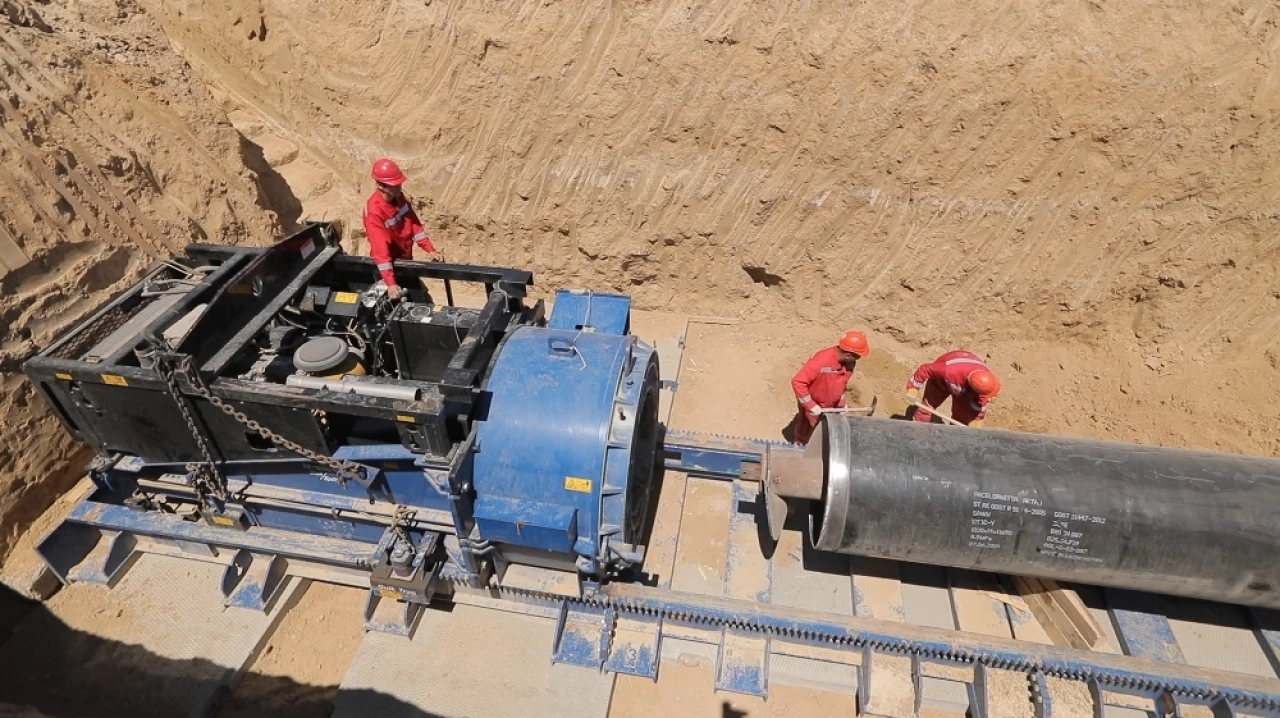 >