KMG and Chevron Phillips Sign Agreement to Design Polyethylene Plant
11.12.2022
On 11 December 2022, Chairman of the Management Board of JSC NC "KazMunayGas" Magzum Mirzagaliyev met with Vice President for Technology and New Developments at Chevron Phillips Chemical Venka Chandrashekar. During the event, the parties signed a License Agreement and a Design Agreement for implementation of "Construction of integrated gas chemical complex in Atyrau Region, Phase II (polyethylene)" project.
The Agreement provides for development of design documentation for a polyethylene production unit using MarTECH® ADL technology, and provision of a corresponding license for production of 625 thousand tonnes of polyethylene per year. Chevron Phillips Chemical's technology will enable production of a wide range of products at the future Kazakh plant, including premium high-density polyethylene that is projected to maintain a long-term growth in global demand.
The second polymerisation unit, with capacity of 625 thousand tonnes of polyethylene per year, is at the stage of final negotiations with another licensor. Signing of an agreement is expected before mid-December this year.
Two process units will be combined into a single complex with a total capacity of 1 million 250 thousand tonnes. The choice of two leading licensors will ensure output of a wide range of basic and premium brands, the greatest production flexibility and competitiveness.
"We highly appreciate our partnership with Chevron Phillips Chemical. I am very pleased that we have reached an agreement on the polyethylene production project with Chevron Phillips Chemical regarding the most optimal configuration of the polyethylene production process. As part of this work, CPChem proposed a process for production including output of premium grades of polyethylene with characteristics meeting the current and future market trends," noted M. Mirzagaliyev during the meeting.
After signing the License Agreement and the Design Agreement, the parties begin to develop the basic design.
"Today we have received the first results of fruitful work of our teams that prepared the License Agreement and the Design Agreement. By signing them, we are at the origins of implementing the large-scale Polyethylene project in the Republic of Kazakhstan," added the Chairman of KMG's Management Board.
The event also included discussions of further expansion of bilateral cooperation with U.S. partners in the petrochemical sector.
Chevron Phillips Chemical Company, LLC is a petrochemical company headquartered in the Woodlands, Texas, a major producer of ethylene, propylene, polyethylene, polyolefins, aromatic compounds and a range of other chemical products.
In addition to its own production of polyethylene in the United States, the company is also a supplier of technology for production of polyethylene around the world. The company is the licensor of the MarTECH® slurry process. There are varieties of ASL (Advanced Single Loop with a single-loop reactor) enabling output of basic products and ADL (Advanced Dual Loop with a double-loop reactor) enabling output of basic and premium products.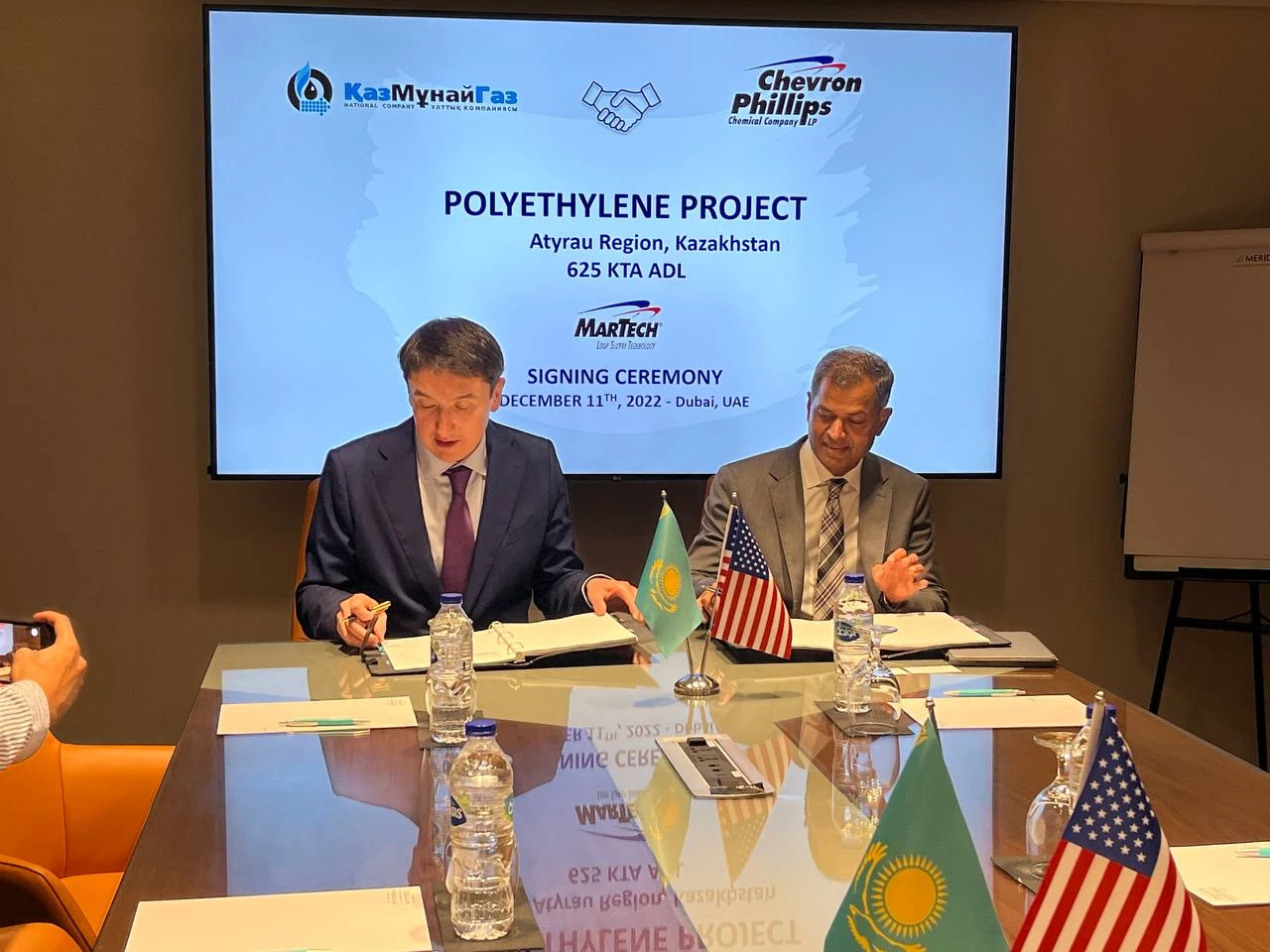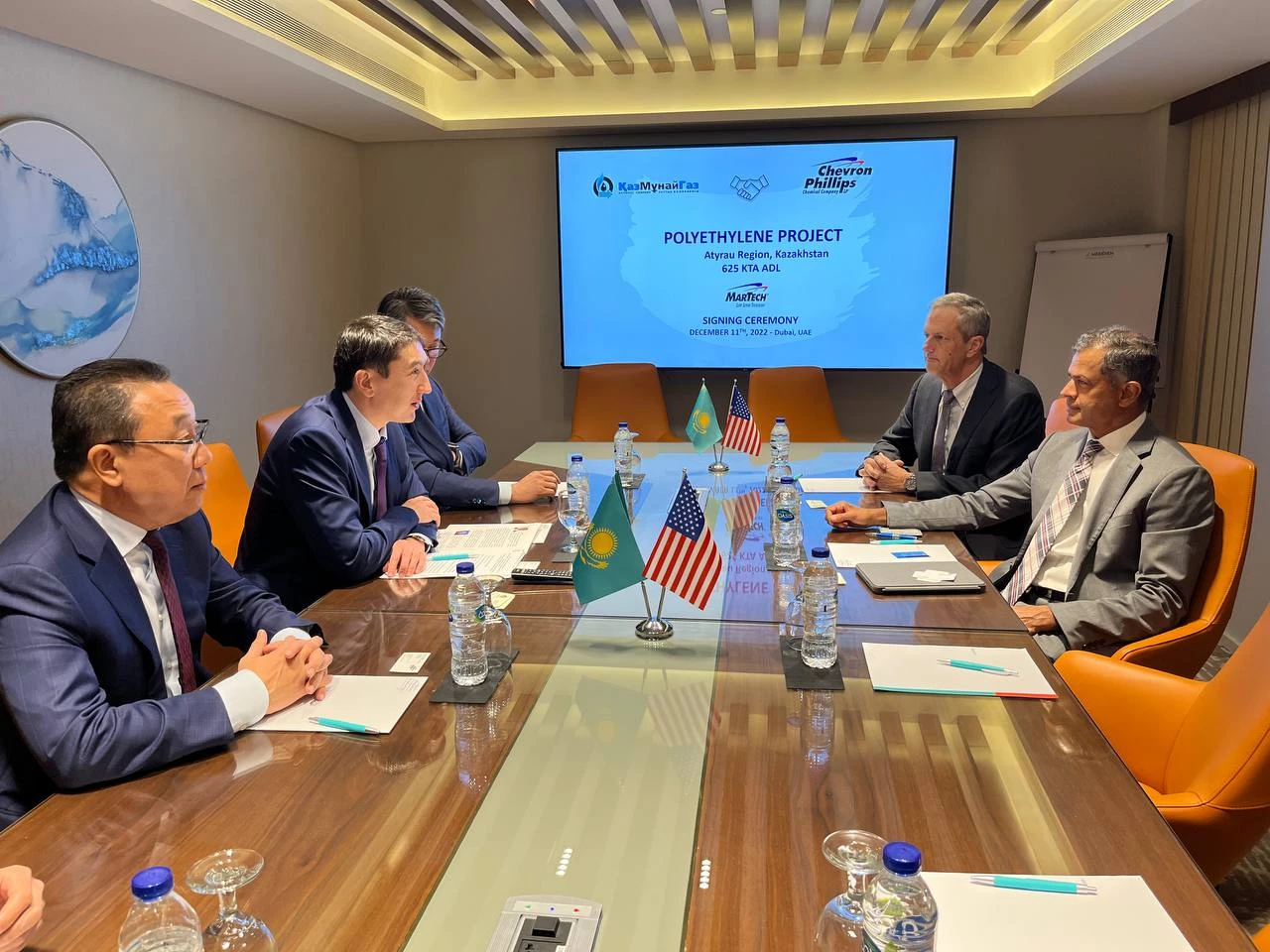 >