KazMunayGas Expands Cooperation with French Partners
30.11.2022
JSC NC "KazMunayGas" (KMG) intends to attract about €100 million of investment in oil and gas processing projects. This was agreed during a meeting between KMG and Air Liquide management.
On 29 November, KMG and Air Liquide Eastern Europe S.A. signed a relevant Cooperation Agreement. The event took place during a meeting of the Kazakhstan President Kassym-Jomart Tokayev with representatives of the French business community during his official visit to France.
According to the signed document, a joint venture, Air Liquide Munay Tech Gases LLP (ALMTG), will implement a project to build a new hydrogen unit at Pavlodar Oil Chemistry Refinery to produce 160,000 tonnes of winter diesel fuel per year. This will increase the refinery yield from 84.2% to 88.3%. The estimated project value is €60 million.
There are also plans to build a utility gas unit for KMG's Polyethylene Gas Chemical Project in Atyrau Region. The project investment is estimated at around €40 million.
The parties also signed a Memorandum of Understanding on Decarbonisation. This document is aimed at reducing ALMTG's CO2 emissions by 33% by 2035 versus 2020 and achieving carbon neutrality by 2050. ALMTG has committed to purchase electricity in Kazakhstan from renewable sources to the maximum extent possible.
"Air Liquide is our long-standing partner based on successful cooperation at three KazMunayGas plants (Pavlodar Refinery, Atyrau Refinery, KPI). We have implemented five projects and signed long-term contracts to supply hydrogen and nitrogen for 20 years. The documents that we have signed today give impetus to the further fruitful implementation of all joint projects. We believe that the measures being taken to improve the energy efficiency of Air Liquide units will reduce OPEX and hence the price of utility gases," said M. Mirzagaliyev, Head of KMG.
During the official visit to France, Samruk-Kazyna JSC, KMG and Total Eren S.A. also signed a Term Sheet for the construction of 1 GW Wind Power Plant with 300 MW/600 MWh electricity storage system.
The Term Sheet outlines the basic terms of the joint venture between the parties, such as shareholdings, timing and form of the transaction, sources of financing, etc. According to the agreements, TotalEnergies will hold 60% of the capital and Samruk-Kazyna and KMG will hold 20% each. The plant is expected to be commissioned in Q4 2025.
For reference:
Air Liquide is a global leader in gases, technology and services for industry and healthcare, has a presence in 75 countries. Air Liquide Munay Tech Gases LLP is a joint venture of Air Liquide and JSC NC "KazMunayGas" with 75% and 25% shares respectively, established in 2016. Since 2018 it successfully operates hydrogen and nitrogen units at Pavlodar Oil Chemistry Refinery, and since 2021 it operates hydrogen and nitrogen units at Atyrau Refinery. ALMTG also started commercial production at the newly built nitrogen unit at Karabatan near Atyrau from 2021.
In October 2021, a Memorandum of Understanding was signed between the Kazakh Ministry of Energy, Samruk-Kazyna JSC, JSC NC "KazMunayGas" and Total Eren S.A. for the construction and operation of 1GW Wind Power Plant. On 9 June 2022, the parties signed an Agreement in Principle for 1 GW Wind Power Plant Project (WPP).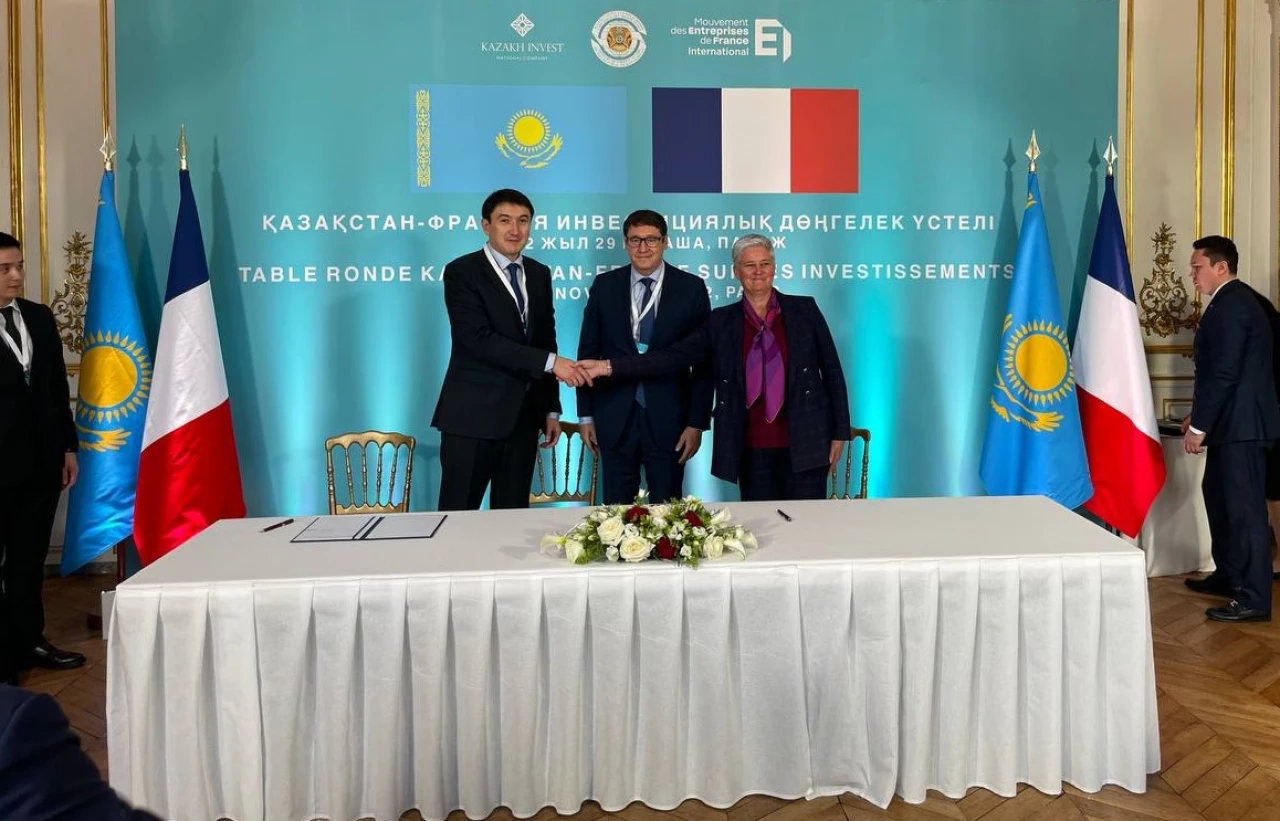 >