KazMunayGas Again Topped the Environmental Transparency Rating of Kazakh Oil and Gas Companies
05.12.2022
For the sixth consecutive year, JSC NC "KazMunayGas" maintains leadership in the environmental transparency rating of Kazakh oil and gas companies.
On 1 December 2022, in Moscow, at the UN information centre, the World Wildlife Fund (WWF), Creon Group and ACRA rating agency presented the results of the Eurasian Environmental Transparency Rating of Oil and Gas Companies 2022.
In total, the 2022 rating included 14 oil and gas companies of Kazakhstan. The rating list is based on oil, gas condensate and oil products output data according to the Ministry of Energy of the Republic of Kazakhstan.
For the sixth consecutive year, KazMunayGas maintains leadership among the Kazakh companies with North Caspian Operating Company ranked second and Karachaganak Petroleum Operating ranked third.
The rating also includes 21 oil and gas companies of the Russian Federation and 2 companies from Azerbaijan.
"Over the years of work, our rating has earned its reputation as a reliable tool for assessing the environmental transparency of businesses. Today this tool is in demand more than ever as the oil and gas industry would have to demonstrate its leadership and achievements in the field of sustainable development and ESG standards to new partners in Asia, Africa and the Middle East," said Fares Kilzie, Chairman of the Board of Directors of Creon Group. "Long-term support from the UN as a rating partner is a high measure of quality for us and simultaneously a key incentive for further work, the rating development vector is aimed at achieving the global sustainable development goals."
"We highly appreciate participation of our subsidiary and dependent entities which join KMG annually pursuing the policy of transparency and openness of environmental information. The company continues to follow the path of environmentally responsible business, observing the transparency principles for sustainable development of the country," said Kairat Saktaganov, director of the Department of Labour and Environmental Protection.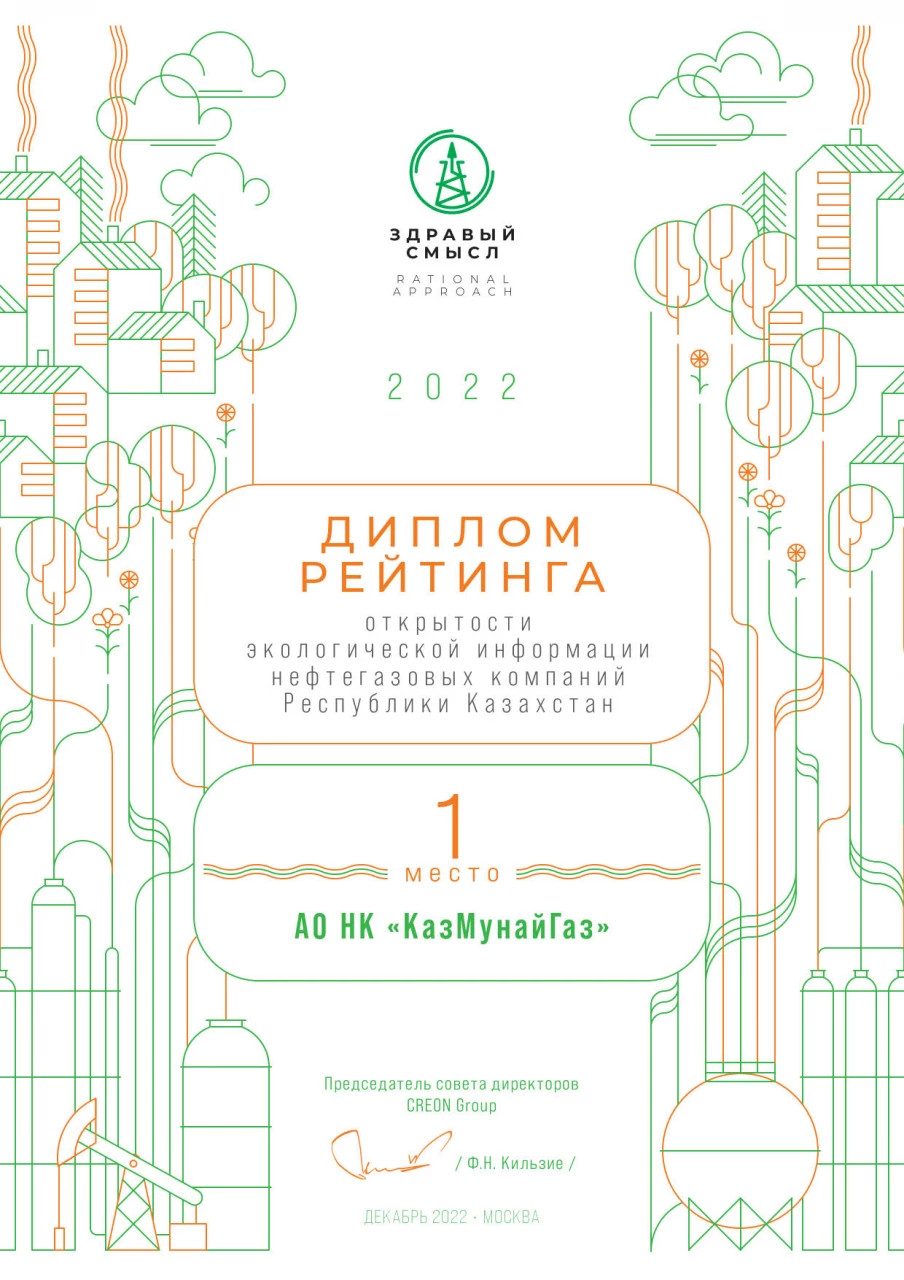 >