KazMunayGas Group's Employees Receive State Awards
30.12.2021
On 15 December, JSC NC "KazMunayGas" held an online event to celebrate the 30th anniversary of the Independence of the Republic of Kazakhstan.
The anniversary celebration was attended by representatives of subsidiaries from across the country. The company's management highlighted the country's achievements in the 30 years of Independence and emphasised important developments in the oil and gas sector.
On the eve of the main public holiday, state awards were presented to the group's employees, who have made a significant contribution to the development of the country and the region. For example, Malik Junussov, Shift Supervisor of the Central Engineering Service of the Operations Management Department, Embamunaigas JSC, was awarded the Order of Kurmet (Respect).
Tolegen Bykilov, Operator of Oil Production Shop No. 2, Karazhanbasmunai JSC, was awarded the Order of Yenbek Danky (Labour Glory) of the third degree.
Yeren Yenbegi Ushin Medals (For Distinguished Labour) were awarded to Lukpan Bisaliyev, Head of Oil and Gas Production Shop No. 2 Karsak, Dossormunaigas Oil and Gas Production Department, Embamunaigas JSC; Zhumabek Segizbayev, Oil and Gas Production Operator of Kalamkasmunaigas Production Department, Mangistaumunaigas JSC; Konakbai Kuzekenov, Oil and Gas Production Operator of Zhetybaimunaigas Production Department, Mangistaumunaigas JSC; Amangeldy Samiyev, Head of Karazhanbasmunai Production Automation Shop; Rassul Yussupov, Operator of the Drilling Operations Department, Ozenmunaigas JSC.
In addition, oil workers were awarded with 30 Years of Kazakhstan Independence Anniversary Medals, medals of KAZENERGY Association and honorary certificates of KMG.
A total of 500 employees across the KMG Group received awards and honorary certificates, including 21 employees who received state awards.
"Thirty years ago we embarked on the path of sovereign development and building a free state. Thanks to the balanced and open policy of the First President of the country, Yelbassy Nursultan Nazarbayev, we have earned the respect and trust of the entire international community. Large-scale reforms and systematic industrialisation of the economy have ensured the balanced development of every region of the country, and the oil and gas industry has become the foundation and key driver of economic transformation.
The course taken by Yelbassy is being successfully continued by the head of state, Kassym-Jomart Tokayev, who also attaches great importance to the development of the oil and gas sector.
The current impressive success of young and independent Kazakhstan was made possible by the selfless work of all oil workers — people who are sincerely dedicated to their work and dream of a bright future for their native land," Alik Aidarbayev, Chairman of KMG's Management Board, said in his speech.
The results of the Annual Best HSE Innovation and Practice Awards of the KazMunayGas Group were also summarised at the celebration event. This year, the first place winner was Anuar Kaltayev, Chief Manager of the Health, Safety, Fire and Emergency Department of KazTransOil JSC. The second place went to Sergey Dechev, Electrician, and Ivan Porokh, Senior Engineer, at Petro Kazakhstan Oil Products LLP. Third place went to Baldyrgan Umirbekova, an engineer at KMG-Kumkol LLP.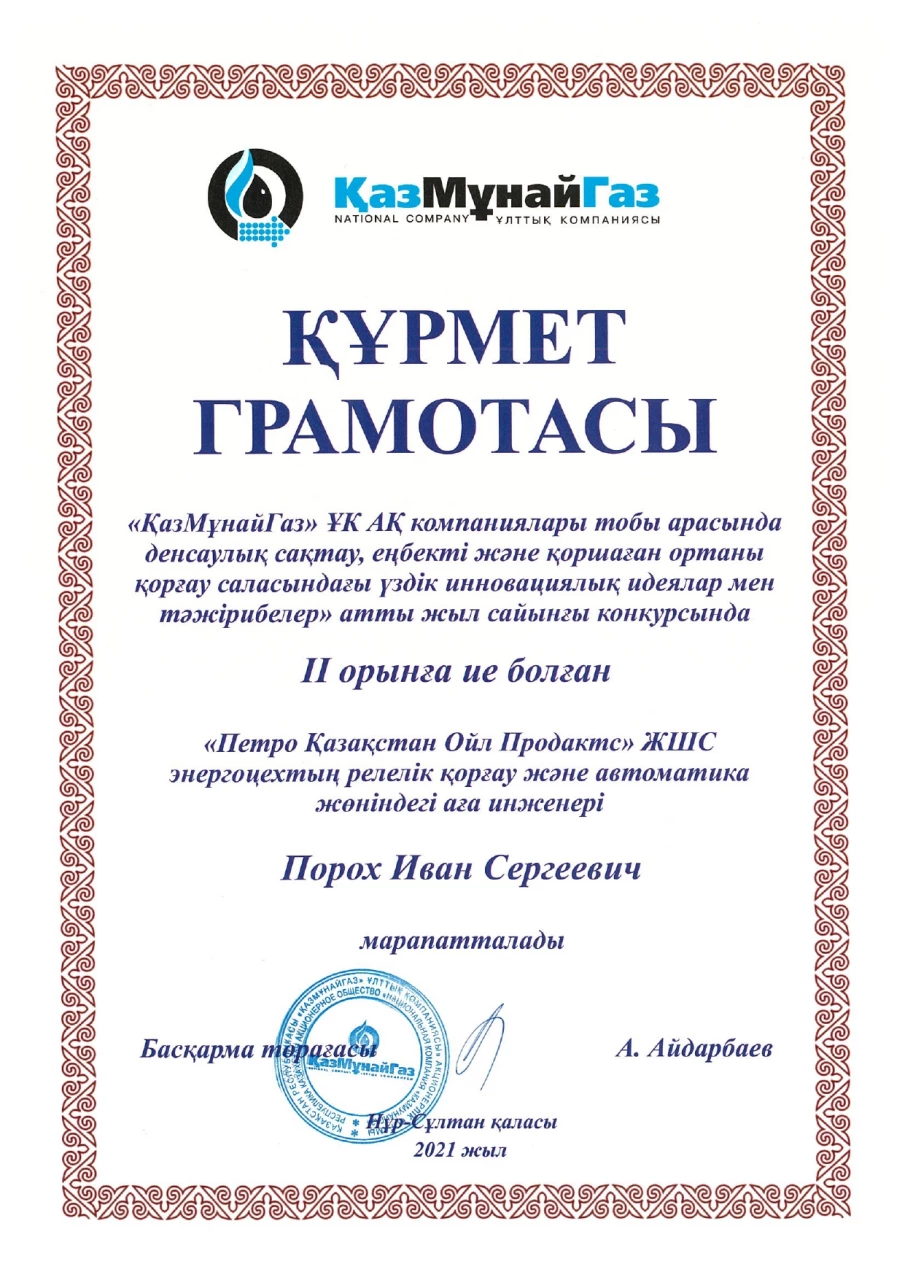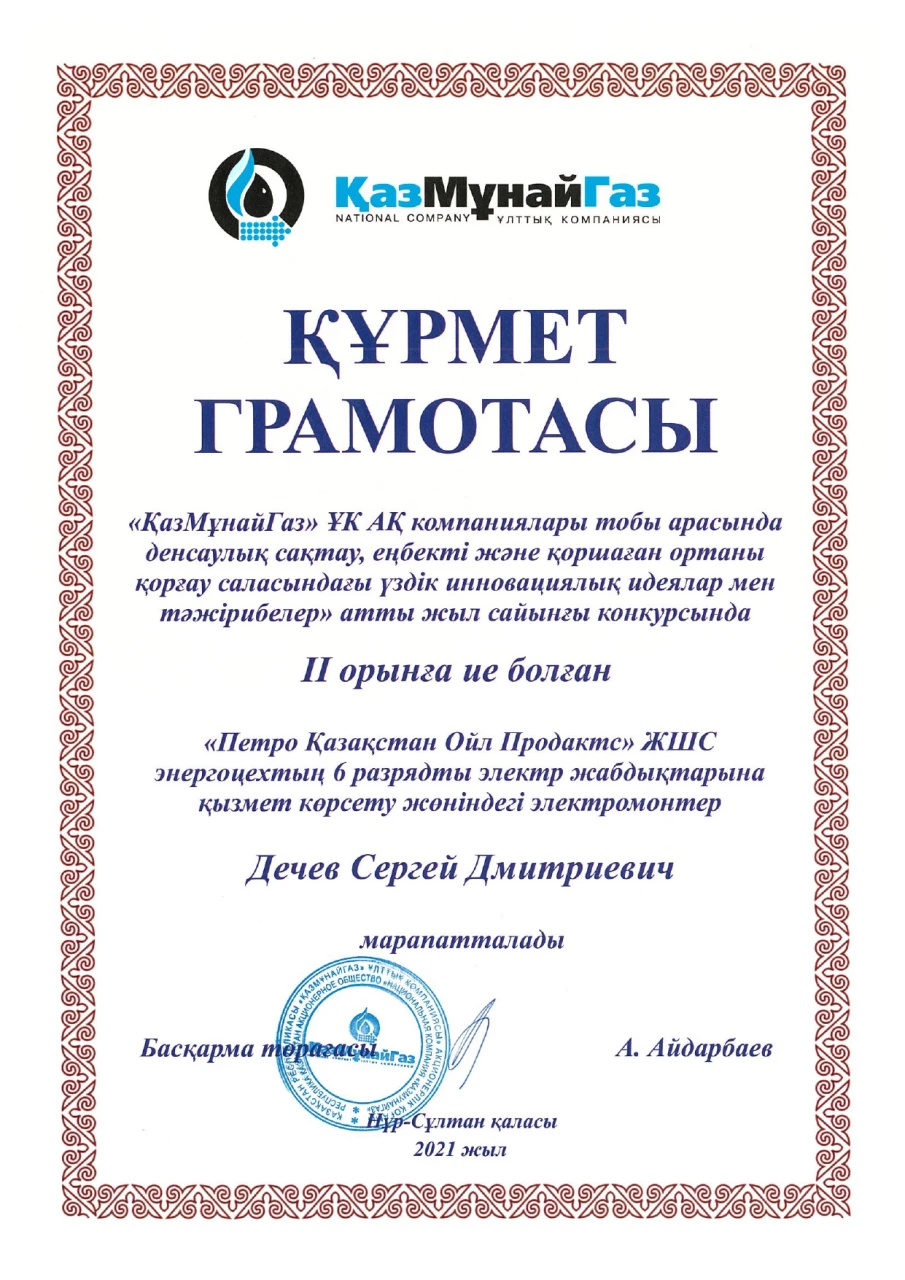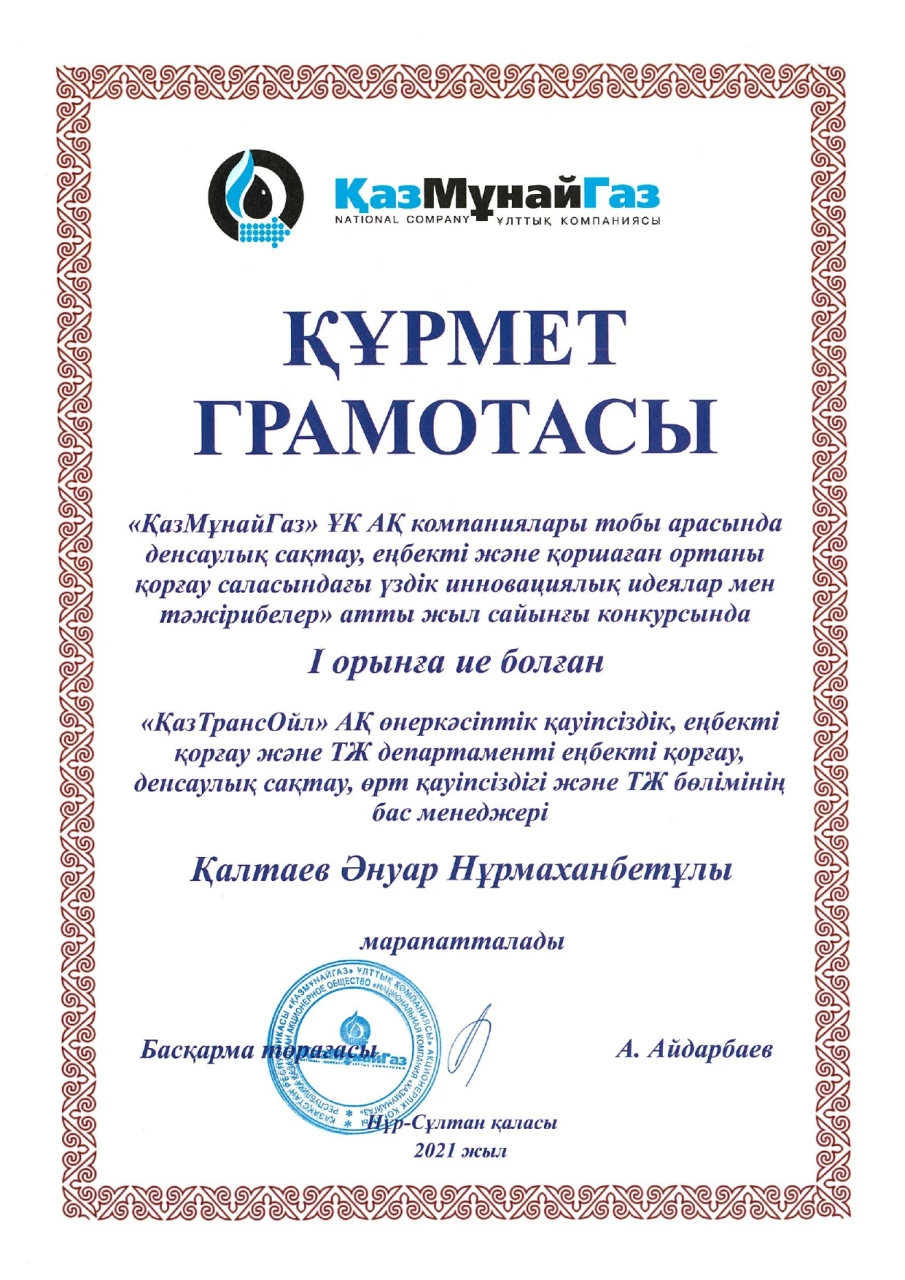 >