Jackup Drilling Rig «Satti»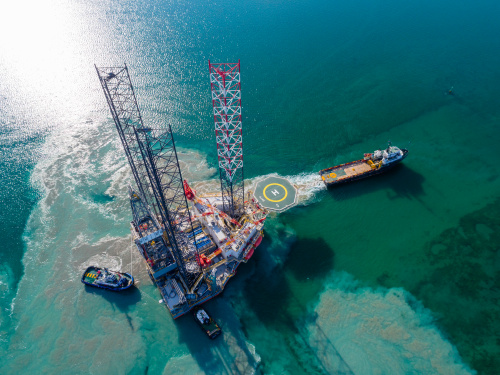 Terms of implementation
2019-2021
Participants
KMG Drilling & Services LLP
Current status
Implemented
drilling depth, meters

investment, million US dollars

new jobs during the modification period

new jobs during operation
The owner of the jackup drilling rig «Satti» is KMG Drilling & Services LLP.
JUDR «Satti» is a high-tech drilling rig designed by Keppel FELS for operations at depths from 5 to 80 m. The drilling capacity is over 6000 m.
In 2021 JUDR modification was successfully completed and drilling operations of three wells on the Shallow Water Absheron Peninsula structure of the BP project in Azerbaijan Republic was completed in 2022.
JUDR equipment is certified by manufacturers NOV, ABB, Viking etc. and conforms to all API (American Petroleum Institute) requirements.
All personnel is trained and certified according to the international standards.

Project goals:
•Support offshore oil and gas operations through the development of drilling capacities.
•Expansion of offshore drilling operations in the Caspian Sea.
Jack-up floating drilling rig modification and further operation within the Azerbaijan sector of the Caspian Sea improved the competitiveness of the rig in the drilling services market and enabled compliance with the requirements of international oil operators.